You may have heard of websites that have used sales funnels to gather leads and to convert into sales. Besides that, you probably have received emails from one of your favorite websites that utilizes a service such as ClickFunnels, and you may not even know it! So, in this article, I will answer the question "What is ClickFunnels", review the services that it provides and talk about why it is important to capture your leads.
What Is ClickFunnels
Firstly, ClickFunnels is a feature-packed funnel builder that has a quick and user-friendly approach to help you build up any type of funnels. As a result, you may collect more leads, hence generate more sales.
Secondly, and most importantly, they have really taken it upon themselves to include many different tools.
Therefore, you aren't using three to five different software programs to reach a final sales solution.
Features Of ClickFunnels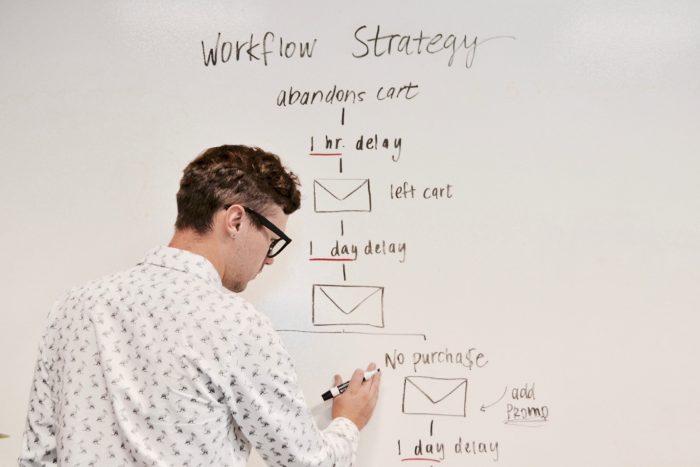 That is to say, ClickFunnels has found many ways to make sure it's end product is simple to use. Therefore, don't feel like you need to be a coder by any means. Moreover, It features a simple drag and drop webpage editor.
As a result, this gives you the ability to quickly build sales funnels that will convert for your product or service. Also, the tool will give you everything you need in one simple dashboard.
All in all, ClickFunnels has found unique ways to make sure your experience is always easy and organized. Besides that, it even provides resources to automate email and Facebook marketing.
Some Popular Reasons To Use ClickFunnels
If you want to be a best selling author, ClickFunnels is a must!
ClickFunnels helps you to capture leads so you can sell future products and services
Selling any product
Selling any service (lawn care, massage therapy, endless options!)
Getting leads to sell to other businesses or companies
A bunch of themes and templates that you can use to customize your website
Run a webinar or promote classes
Automate email marketing
ClickFunnels gives you free domain name
Share Funnels functionality. No other software has this feature, you can share funnels with the friends or/and leads!
Payment integration
Add shopping cart to your funnel
The ability to create membership websites
A/B testing for all of your web pages
Affiliate management
Around the clock support
Training materials
WordPress integration (plugin)
In addition, ClickFunnels comes with many useful integrated tools. Not to mention, these tools are built in from day one. Here I will go over a few of the top tools in detail, so you know how feature packed ClickFunnels really is!
A/B Testing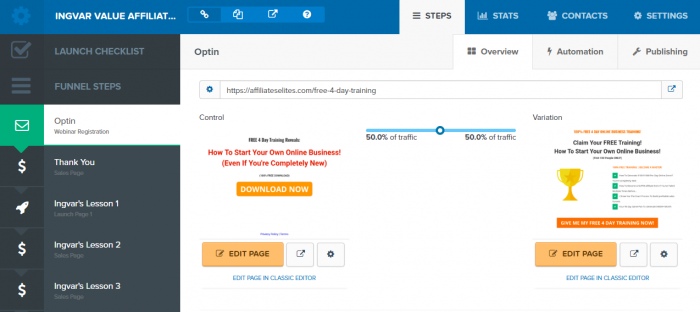 A/B testing will allow you test conversions for two variations of each page in your funnel. If you want to learn more then read ClickFunnels A/B testing post.
Some benefits of A/B testing
Improved Content Engagement
Reduced Bounce Rates
Increased Conversion Rates
Reduced Risks
Reduced Cart Abandonment
Increased Sales
Backpack
Did you know that you can create an affiliate product inside of ClickFunnels? Normally, the process of creating an affiliate program for your product or service is very complex. But, not with Backpack product!
This tool will replace complex affiliate software and give you the ability to easily add an affiliate program to any of your sales funnels!
For instance, ClickFunnels provides simple and easy-to-use templates that will get your affiliate program up and running in minutes. Moreover, Backpack makes it super easy to add commission plans to your funnels!
As a result, you can promote more sales and make more money by recruiting affiliates to promote!
Actionetics

This feature allows you to create "Smart Lists" so that you can automate messages to go out to contacts in sequential order.
As a result, this will look at what a specific actions a customer or a visitor has performed, and send them the next step.
As a result, it really helps turn customers into repeat buyers. This brings them closer to another sale, or simply gives you a way to keep your contacts interested in what you offer!
Classes

If you are wanting to put together classes, ClickFunnels is a great place to look. This will give you the ability to capture leads after a class is purchased.
You would then be able to build and send the appropriate funnel to provide them with other classes that they may be interested in taking.
This is a great way to prevent just single purchases from visitors and will keep them interested for much longer.
Share Funnels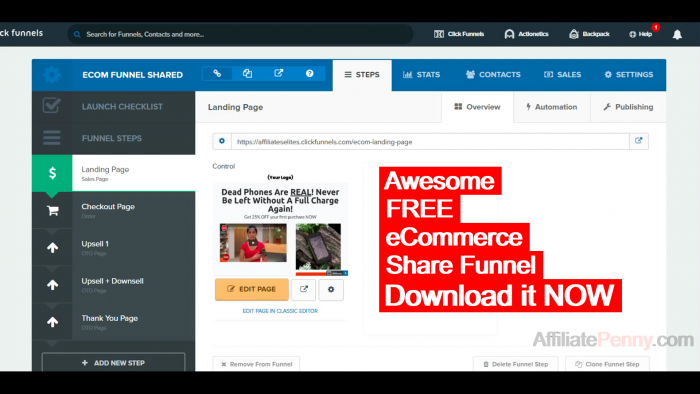 Is an awesome built-in feature of ClickFunnels. Moreover, other software hasn't had this feature, you can share funnels with the friends or/and customers!
The cool thing about shared funnels is that people actually get tracked back to you (when they sing up thought your link).
For instance, you will receive an affiliate commission (40%) for bringing in a new ClickFunnels member.
By the way I have a post which covers Share Funnels topic. I strongly recommend to read it out. You can even get my eCommerce funnel for free.
Or you can follow my step-by-step guide and create your own funnel!
Shopping cart / order form page
Yes, the ClickFunnels shopping cart / order form page is essential for your online sales! The order form allows you to integrate various payment methods to process your orders from your customers.
Learn more how to set up an order form page and integrate with PayPal!
Features below to come soon!
Pypeline
CRM feature that will help you keep on top of who your contacts. So, this tool allows you to take your leads and find ways to convert them into customers.
Wasabi
Wasabi will give you the ability to use preloaded templates in which you can upload your training courses or content in minutes.
This will negate the need to pay expensive coders to develop these websites for you with many tabs and links, allowing member only areas so that you get paid for your hard work!
ClickFunnels Vs The Competitors
In this paragraph, I will discuss the pros and cons of ClickFunnels versus the competitors. The art of lead generation has developed greatly since the start of the internet, and many companies are popping up to make this process easier and less time-consuming.
ClickFunnels vs Leadpages
Leadpages does include a drag and drop feature as well. Though Leadpages is really just meant to be what it sounds, a single page to generate leads. After that, the features really stop.
Therefore, it is very easy to use and a great option if you just want a landing page that can generate a few email leads.
On the other hand, ClickFunnels really dives down much deeper and includes this feature along with many other tools and services built in from the start.
In addition, I do have a post that covers ClickFunnels vs Leadpages topic. In this post, I will draw a comparison between ClickFunnels and Leadpages.
ClickFunnels vs Keap (Infusionsoft)
Both tools actually have a lot of similar features. For instance, they both include landing page features as well as email marketing tools and funnels. Where they differ is Infusionsoft can be much more complicated and time-consuming.
In other words, the user platform is not as easy to pick up and go and figure out how to build the funnels or campaigns that you need to convert your leads.
As a result, Infusionsoft is more for sales and marketing where ClickFunnels is a drag and drop landing page and lead generation tool made for the small business or entrepreneur. Learn more ClickFunnels vs Keap (Infusionsoft) | Which is Better.
ClickFunnels vs GetResponse
Each of these platform has a different functionality. As mentioned above, ClickFunnels is used to build a website that is a sales funnel and act's to convert visitors to your site into sales.
On the other hand, GetResponse started as an ordinary email marketing platform. But have now expanded to provide landing pages, marketing automation and can even help you create webinars.
No doubt, both of these platforms can be used to provide a comprehensive online marketing service, and although they describe their services in different ways.
However, the actual aims of both are similar. In addition, you can read my review, and comparison in the previous article Mailing Services | Best Email Marketing Service ClickFunnels or GetResponse.
ClickFunnels Pricing
So, ClickFunnels has 2 main packages (+1 special package).
The Startup package:
100 pages
20 funnels
3 custom domains (One is FREE)
Hosts up to 20,000 unique visitors
The Full Suite package:
300 pages
70 funnels
20 custom domains
Actionetics
Backpack
Hosts up to 100,000 unique visitors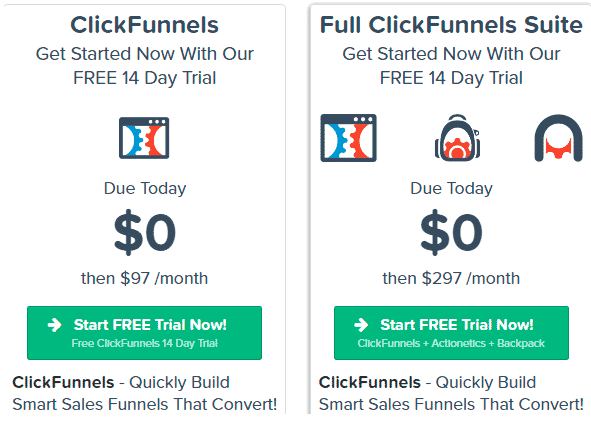 Considering how these funnels can convert at an incredible rate, and convert visitors to your site into sales, it won't be long before you make the money back.
The "Share Funnel" plan:
If you don't have the funds to pay the $97 (or $297) for a regular ClickFunnels account, you can use the program for $19/mo! Although, it does come with a few limitations:
You can only add 3 funnels
Total of 10 pages
Can't share your funnels
Why Use ClickFunnels?
Above all, ClickFunnels is made to automate your sales process for you. So, it is great for those who do not want to code themselves or pay someone to do coding for them. Because, coding can be very time consuming and costly.
Even if you pay for coding, you have to worry about issues coming up down the line. The drag and drop feature really cuts down on time and money which is what is important when you are generating sales.
In addition, with ClickFunnels you can make money in a different ways. If you want to know how, you definitely need to read proven ways you can use ClickFunnels to make money article.
Just Want To Try It?
Above all, one of the best parts of ClickFunnels is that it comes with a free trial, this way you can get your hands on the product and build a funnel. Funnels are vital in today's online sales models.
In other words, if you don't have a funnel you are simply losing countless opportunities to gather leads and convert those leads into sales!
Don't know what to do and how to start? Want to learn how you can use ClickFunnels to start your own online business? If yes, Claim Instant Access to 4 Day Training for FREE Right NOW!
Final Words
In conclusion, the hardest part when it comes to starting out with making sales is generating leads and traffic to your product or service. A funnel such as ClickFunnels is essential when it comes to capturing visitors to your product.
Once you gather some leads, you can take them through a campaign of your choice to keep them coming back to your site. You can also use these campaigns to find them similar products that they may like based off of past purchases.
Above all, learn how to become a super affiliate using ClickFunnels. Checkout my favorite ClickFunnels examples and learn how you can make money using ClickFunnels.
Thanks for reading through this entire post. Let me know what you think in the comments.
If you find this post useful, please share it! It costs you nothing, and it feels great for us! Thank you!