Hey there, in this post I'm going to show you step-by-step how to create your own affiliate marketing funnel. So, you can make money online today!
I'm going to assume you know what affiliate marketing is. But, just a little recap, it's the method where you go make money online by promoting someone else's product. By the way, you can learn more about it from this post.
So, I'm going to show you how to create an effective funnel that you can use online and make money. Moreover, you can get this funnel for free. You can get the funnel that we create in this post and everything that comes with it.
You can't download them anymore. However, you will see how to create one and use it on anything you like. So, we're going to jump in, I want to show you how doing this.
What a Funnel Is?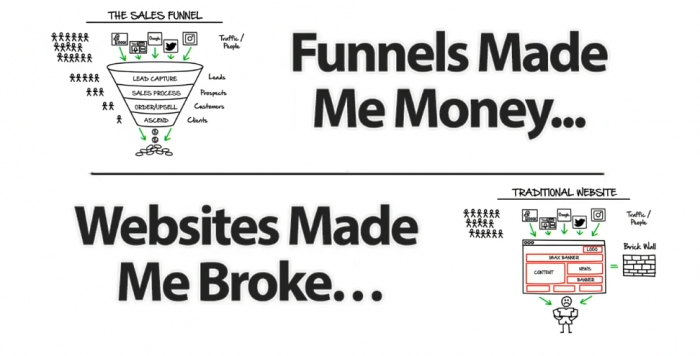 But, before we create the affiliate marketing funnel. I want to kind of explain what a funnel is and how it works.
Because a lot of people don't really understand what a funnel is. They seem to think that the funnel is just 2, 3, 4 or 5 pages or something like that.
However, the funnel is where you take traffic and you take it through a sequence of events. Then, at the end of that sequence of events, or/and all around in that sequence of events, you try to make money.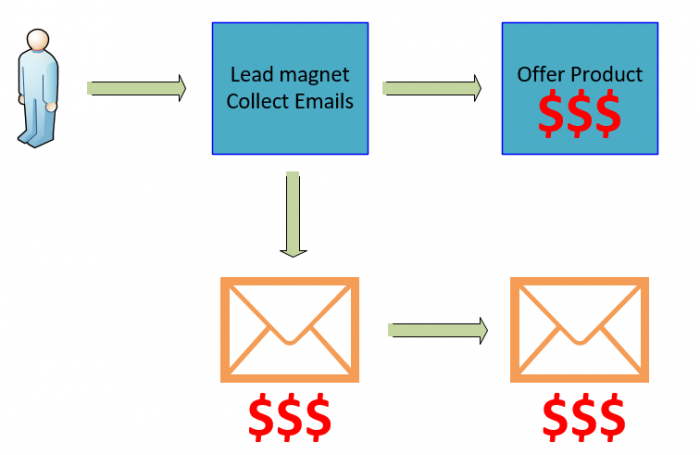 So this can mean; pages, emails and stuff like that.
That is why in this post I'm going to show you how to collect an emails. I'm going to show you how to have an offer, so you can make some money.
I also will show you how to do 2 emails so you can make money with the emails as well.
Create An Affiliate Marketing Funnel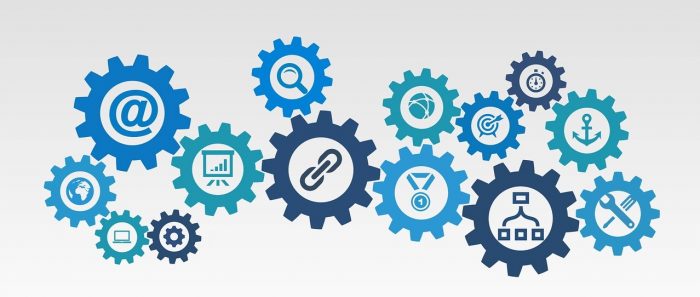 This is a nice general affiliate marketing funnel setup that I'm going to show you right now step-by-step. This is the only post you're ever going to need to follow on how to create an affiliate marketing funnel.
So, lets jump in and start creating an effective funnel to make money online with affiliate marketing.
Now, before we jump into this, we are going to be using two programs and one product website. To do this you will need:
Funnel building program
Email marketing program
Access to ClickBank website
So, for the funnel building program I use ClickFunnels, you can try 14 days free. Moreover, you can get all my share funnels. I leave them all below, so you can go and get them.
The next program I use is called GetResponse, which is an email marketing platform, try 30 days free.
The reason I use two separate programs because this is cheaper. ClickFunnels is for funnels ($97) and GetResponse ($15) is for email marketing.
By the way, you can get ClickFunnels for only $19 mo! Want to know how? If so, you need to use "Share Plan", read this post to learn more.
Next, we will be using the website called ClickBank, we're going to be using a product from this website.
Now I'm going to show you how to set it all up and everything out there.
#1 Get the product from ClickBank
Firstly, you need to sign up to ClickBank, it's free, go and get your account and let's get that started.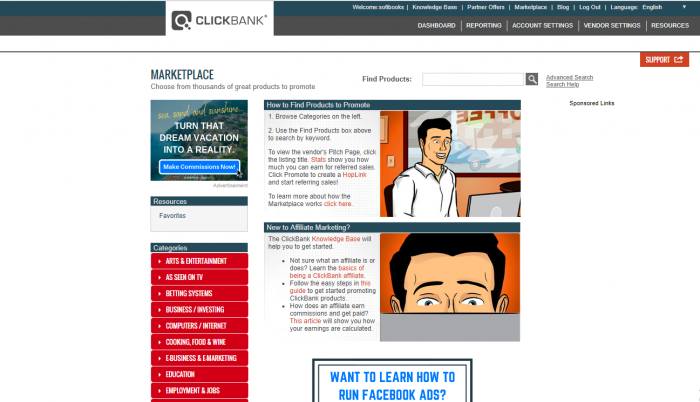 Well, we're gonna be promoting a product called "The CB passive income", because they have everything we need to get started. They have all the emails, they have the links and stuff like that.
But best of all, the reason why I like this product is it has a good commission.
To find this product: go to "Marketplace", then write "The CB passive income" in the "Find Products" text input and click search.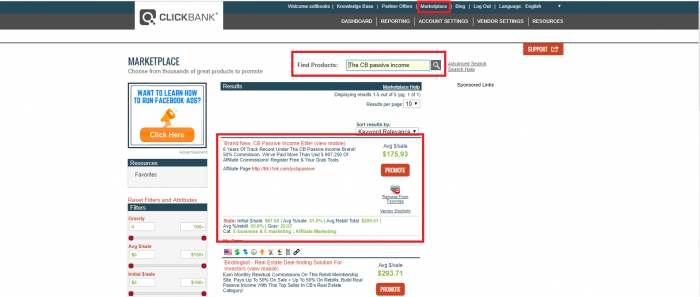 One thing, previously there was a free book… But, not these days. That is why I will give you another free book, so you can give it away to people for free.
So, this is the book right here called the "Facebook Marketing Excellence Training Guide" you can download this book and give it away to your prospects for free, which is really good.
So, next go to "Promote" and then you can either send people to a free online workshop or directly to the sales page.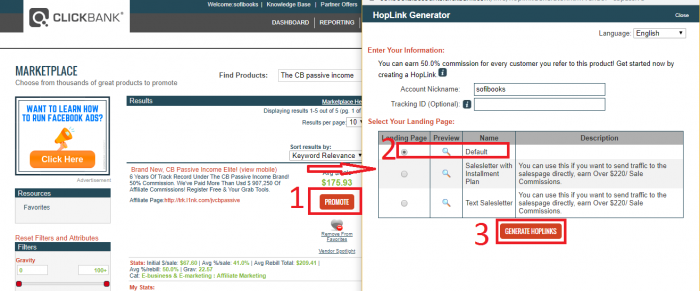 We're just going to do the default, we will send prospects to the free online workshop, and that's a great idea, so you can earn up to $220 commission by giving away a free workshop!
Next click "Generate Hoplinks", you will see something like this:
And don't forget to take email swipes from the "Affiliate Page":
Now you have the product hoplink and email swipes, we will be using this data in a minute. So, let's go to the next step!
#2 Set up an email marketing program
Now we have to set up the GetResponse autoresponder, emails and workflow.
So, how do you go ahead and do that, well it's actually quite simple. First of all you want to basically go and create a GetResponse account or some sort of other email marketing platform. But, I use GetResponse and I like it.
You want to simply sign up and then you'll be in the backend that looks like this.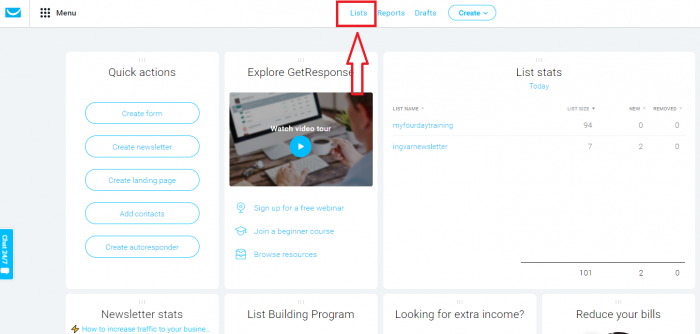 You want to go to "Lists" and you want to create an email list. So just go create an email list, I will name it "ingcbpassiveincome". So this is going to be the list where we send people from our opt-in page.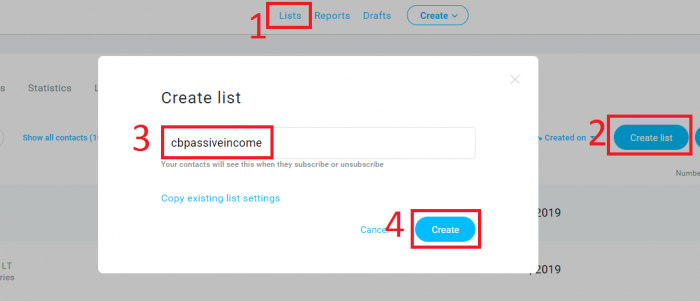 After you create the list, we need to go and create the emails. So, how do we make the emails, in GetResponse you have to go to the menu and click "Automation".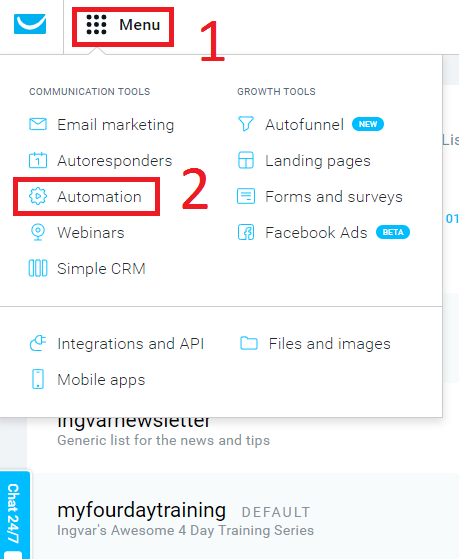 Create messages
Next, you want to go to "Automation messages", choose your list and click on "Create draft".

So, we want to create two emails. In this how-to post I'll show you how to do the first one.
You need to create a draft and just name it "This is your Free Facebook Marketing book" for instance and next go to "Next step".
Next, click "Start from scratch" and choose "1 column layout", "Blank template". We use the blank template here because it is clean and easy.

Then I will; simply drag in a text block, copy/paste the email text, convert HTML version to "Plain Text", "Test message" and click "Next step".
I'm going to put my link at the end, where it says "Free Online Workshop". You would put your ClickBank affiliate link, so use something like bit neat Bitly or a link shortener.
Once you have the link in there, you want to highlight it and you want to click on the chain and put the URL in here.
So, now when people click on that link, which is your affiliate link, you may make some money!
You need to create the messages first, before we create the automation workflow…
Manage workflows
Now you need to go back to "Automation". From there, click on "Manage workflows". Next, click on "Create workflow".

So, we need to go and create the workflow and we're going to create it from scratch.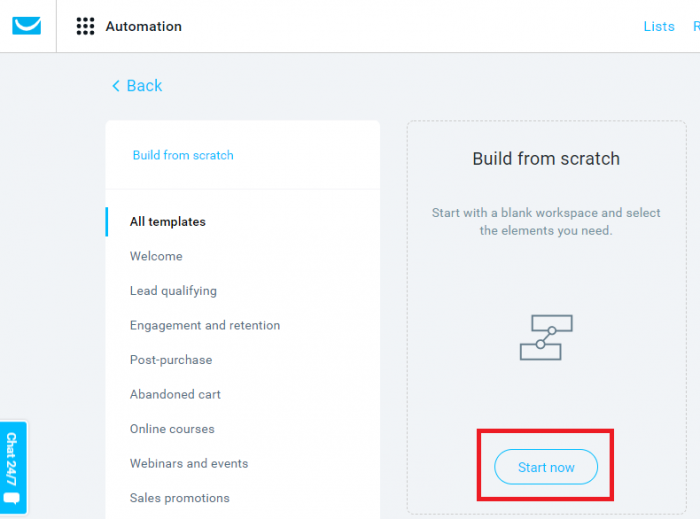 So this is kind of a funnel, I'm going to name this "CB Passive Income", you can name it
whatever you want. Next, click on "Subscribers" and choose "Specific" and the email list you just created. In my case it's "ingcbpassiveincome".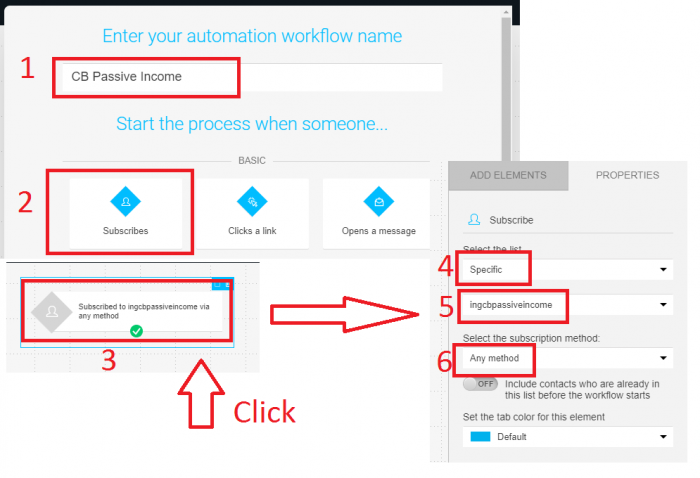 So what's going to happen is when anyone subscribes they're going to come into this workflow. Cool, right?
The next step is to go and choose "Send message" action and then you need to link these together. Next, you need to click on "Draft" on the top right and choose your message.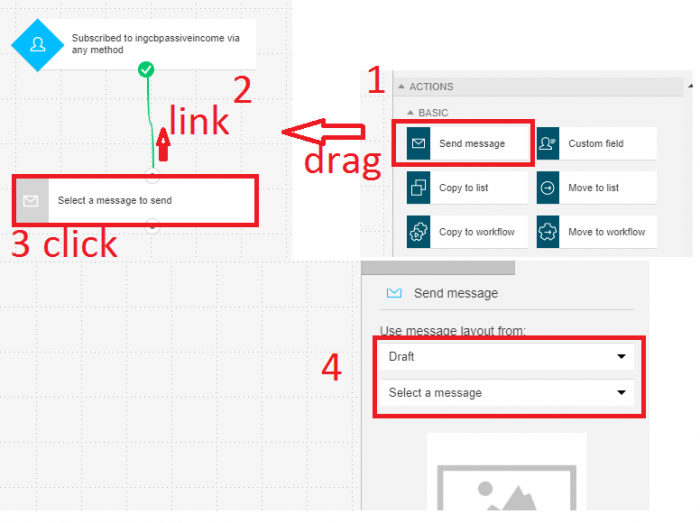 What we're going to do next is go back to "Add elements" and go down to "Wait" action. We will set it to "One day". Although, it's automatically set to one day, but click on it and make sure.
Next, we need to add another message. Because, we will wait one day and then we will send another email to those people. So, let's do this, click on "Send message". Go to "Draft" and choose your second email that you created and link it.
As a result, you should see something like this.
Now, you will need to click "Save and publish", this is live! When someone goes and puts their email in we should get some leads into our workflow and we can automatically send them emails.
Awesome, we have done a lot of work here. But, we still need to do some more :). In the next section we will put all together!
#3 Create the lead magnet and thank you pages for affiliate marketing funnel
So let's go to ClickFunnels, hopefully you're signed in. However, you can use another program if you like, but ClickFunnels is what I use, try 14 days free.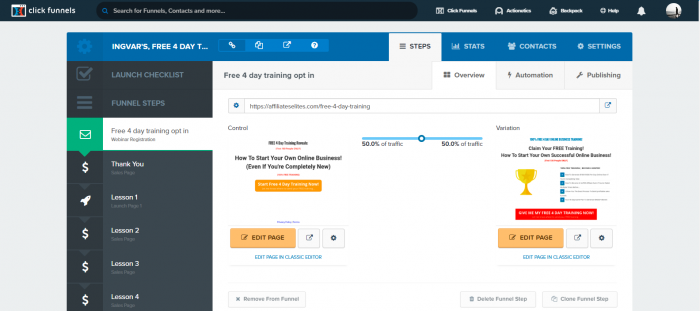 So, this is ClickFunnels in the backend. Here we're going to be using data from the previous steps. You will need:
CB product hoplink (step #1)
GetResponse list name (step #2)
But, the first thing we need to do is create what we call an opt-in page or a lead magnet. Where we will collect someone's email, so we can go and promote more products to them later on.
Add GetResponse integration
So, once you've created a GetResponse list, you want to go into ClickFunnels and go to "Account Settings" and go to "Integrations" and then integrate GetResponse with the ClickFunnels.
Just click "Add New Integration", choose GetResponse and add "API Key". By the way, you can get your key from GetResponse Integrations and API. Yes, it's so simple 🙂
Create lead magnet opt-in page
Now we can start with funnel lead magnet. First of all you need to go to "Funnels" from the top menu. Next, click "Add New".
Now what you need to do is "Create New Funnel" then "Create A Custom Funnel", name it "CB passive income demo" for instance, and "Build Funnel". This is a demo affiliate marketing funnel.
Next we will be adding an opt-in page. Here I will be using my own template, it's really simple nice and clean and it works extremely well.
You don't have it yet, but you can get by downloading this funnel. So I'm going to select the template that you're going to get access to.
Next, let's go and edit this page. First of all you need to do some connecting. So to do that, you just click "Edit Page" next "Settings" from the top menu and "Integrations".
After that you need to select your integration "GetResponse", select action "Add To Campaign" and select list ("ingcbpassiveincome" in my case) where to send the emails.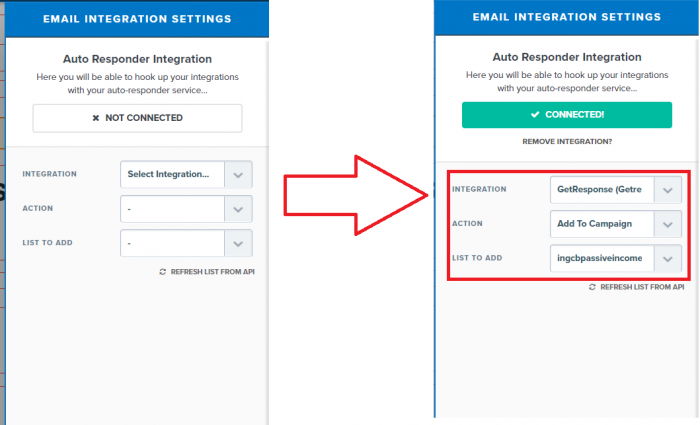 So we've connected the list, when someone sign in, gives you the email it's going to be added to your list.
Next step is to do some edits on the page. Click "Edit Page" and update text. I will put "FREE Facebook Marketing Book" and things like that. We have to do same updates for the mobile version as well.
Then you want to update the pop up. Go to "Pop UP" from the top menu, then click "Show Pop Up", do appropriate changes and then click "Save".
Adding offer
Good, now what you want to do, is you want to add the offer so when you get people's email you send them to the offer where you can potentially make some money.
To do this go to "Settings" and "General" and put your hoplink (from step #1) to the "On Submit Go To" field and save.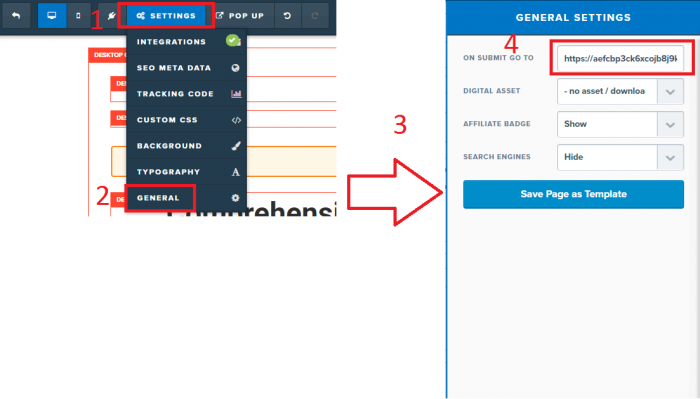 So, now we have everything we need; offer, automated workflow and lead magnet page. Next step is to send the traffic to this page.
Send Traffic to Newly Created Affiliate Marketing Funnel
But how do you actually go out and get traffic to this? Where do you go and put this link, so you can get people to sign up and give you the email.
Well, my number one recommendation is a website called Udimi.com and you can go and get traffic from it. This is cheaper than Google or Facebook ADS and it's much simpler…
I've been doing that myself, here's some SOLO ADS I have bought.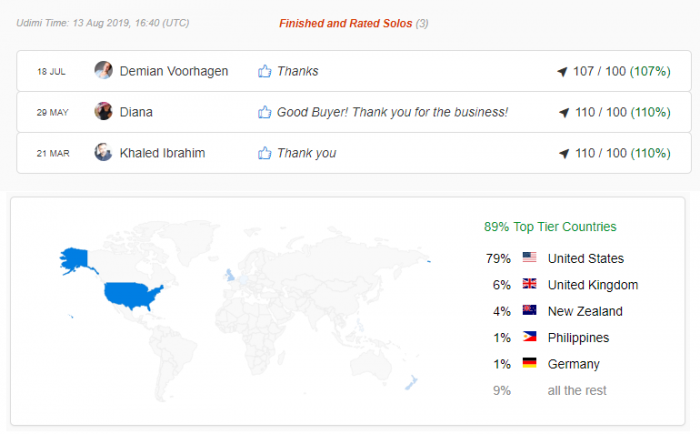 Pretty much buy traffic and people, you give them your link. So let me show you how to kind of do it. Firstly, you need to sign up to Udimi.com (Get Free $5!). Secondly, go to "Solo Deals" and choose someone from a list.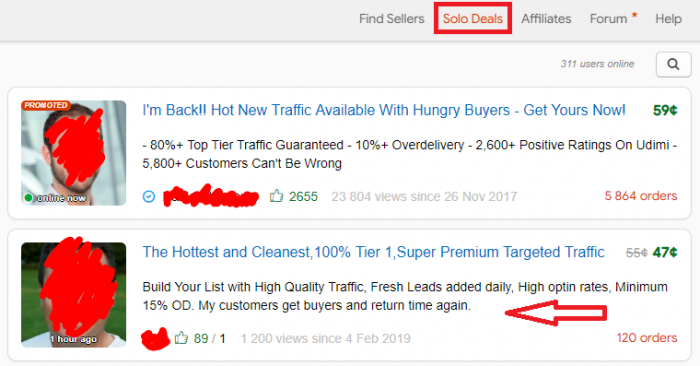 Next, put your link in the field and click "Add to Cart". You purchase and they will send you traffic and you can get commissions that way.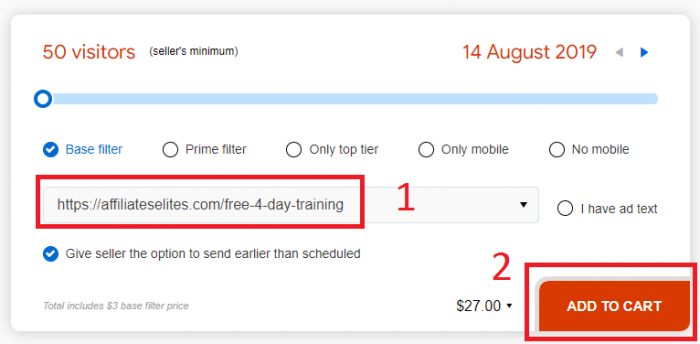 It really depends on the price, you can get 50 visitors for $27 or 100 for $50. So, if you're using my opt-in page that converts very well, let's say 50 percent within, out of 100 visitors.
Then you should get 50 people giving you their email. So, you may be able to get some sort of commission or at least make back your money.
Another way to get traffic, and it is free traffic, is to go and start a YouTube channel or blog. Then you can put your links in the description to get commissions that way and build up an email list.
The point of this all is to build up an email list and make all of your sales.
Final Words
Above all, what we did is we created a funnel and emails where we promote products. All you need to do is copy your funnel link and send people to this and get an affiliate commission.
So, the commission for this particular product you get of one hundred and seventy-six dollars on average. So, that is the product that I recommend you promote for this funnel.
However, you can go and promote all sorts of different funnels, your own products and offers and things like that. But, I just wanted to show you this because it's so simple to actually create and set up an affiliate marketing funnel.
As I mentioned above, you can grab your free funnels below they're all set up for you, plus the emails and book:
And if you do want to learn how to make more money online read these posts:
Thanks for reading through this entire post. Let me know what you think in the comments.
If you find this post useful, please share it! It costs you nothing, and it feels great for us! Thank you!