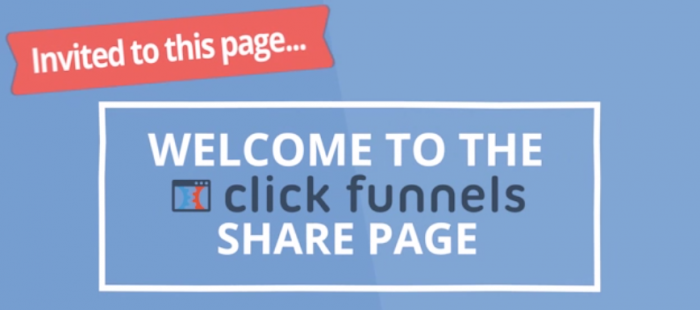 To beginning with, Share Funnels is an awesome built-in feature of ClickFunnels that few people are aware of. However, you can use it to make even more sales revenue. No doubt, there are many businesses that can use this model every day.
So, in this post I will show you how you can share your funnels and/or install shared funnels. Moreover, I will explain why you may want to do that.
Firstly, if you know what the funnel is then awesome! But if you don't, the funnel is the business procedure that you lead your prospects through to find out about you and/or about your product(s). As a result, your prospects will decide whether jump in to what you are offering.
Share Funnels
If you are an affiliate marketer and are not using this yet, you are missing out on a very lucrative business opportunity. How this model works is that you set up your own funnel and once it is up and running you share or duplicate it to other people.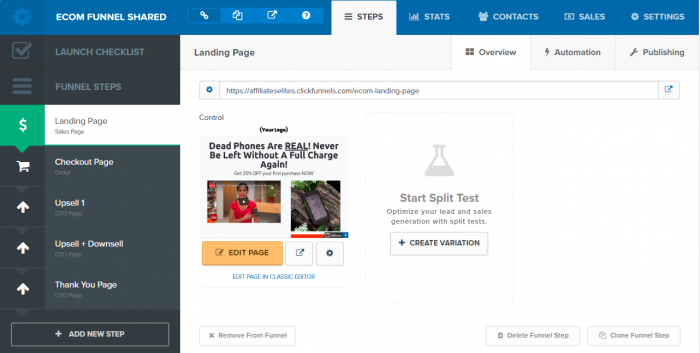 First of all, to share funnel with your customers you will need to create one. To this funnel you will add pages that pertain to your business market or products.
In case of sales funnels, it will need to include; a landing page, a checkout page, an up-sell, a down-sell, and a thank you page. You can see in the picture above.
This setup works for most types of sales funnels. When your sales funnel is ready you can share it as much as you want with as many customers as you want.
How to Share Your Funnels to Prospective Clients
For example, you have built a sales funnel on your account. Next, you show to your customer of how it looks like and how it works. After that, if customer likes it, you want to share this funnel with (s)he.
To share funnel, there is a "SETTINGS" tab at the right hand side (see in the picture below).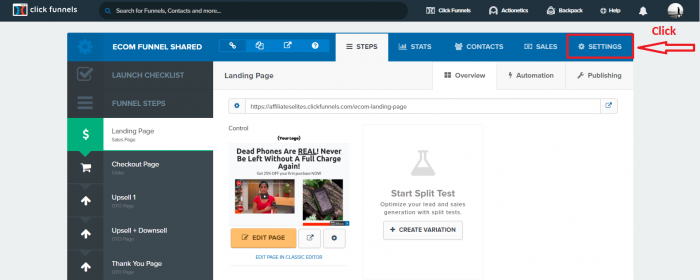 When clicked on "SETTINGS", it opens a window with the settings and a share funnel button. You have to click on it.

Well done! When clicked on "Share Funnel", it opens a pop-up window with your sales funnel share link.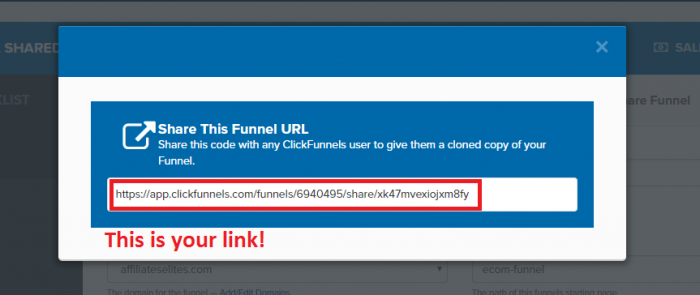 Next, your customer will click on it. As a result, he or she will go to a special page that shows the funnel's name and a short video presentation of how it works.
For those who are already ClickFunnels members, they can just log in (if they don't already) and the shared sales funnel will instantly be added into their account automatically.
However, if they don't have an account yet, there is a free 14-day trial account they choose this option to get started.
Once they have signed up, they will have the entire funnel that you shared in their account. They can edit it, customize it however they like. Moreover they can even share it with their clients.
As a ClickFunnels member, this is how you would share funnels with others.
Some affiliates doing this are making a tremendous amount of money just building funnels for other people. That is all they do, just build amazing funnels and charge a high fee to do it.
This works for a variety of business types including dental/medical practices, document writing services, internet marketing, and real estate.
Why to Share the Funnels

While it's tempting to want to keep your funnel to yourself, there are very lucrative reasons to share it with others, in fact, as many others as possible. I'll explain why.
First of all, the new account (created through you share link) gets tracked under your link. As a result, you get a commission for signing up a new member. For instance, ClickFunnels pays 40% ($38 or $118) recurring commissions for each sign up.
Secondly, if you're a network marketer one reason why you want to share the funnels is to build your down-line of affiliates.
Even if you're the best marketer in the world, it is still hard to get all of your team members up to the same level of performance.
They may have a hard time duplicating your results. Share Funnels solves that problem right away because your affiliates get an exact duplicate of your funnel.
How You Use the Share Funnels in This Way
Let's I explain. Firstly, you go and build a funnel. Secondly, you show it to the potential affiliates and say: "This is what I use to generate leads for me and it works extremely well. If you join my team, I will give it to you, and then you can do the same thing I did."
That way you will help people and attract them. Then they can download your funnel, pass it on to their team, and use it the same way as you to attract leads.
Moreover, you can create a webinar or video presentation about something specific to your business. Maybe you've had people ask you how you find so many clients, this is a great way to answer those questions while pitching them your "program".
They may share that video (or webinar) link with some people who may share it with some others, and so on, and so on. This is like a snowball. As a result, pretty soon the group will grow to a large number of affiliates.
So, the webinar model works really well. You just create the presentation, market it to drive traffic to it, and then close the deal. One of the best way to drive traffic to the
webinar is a blog.
Read out how to make a successful blog and start your very own awesome blog, if you don't have it already.
What is The ClickFunnels "Share Funnel" Plan
There is a little-known secret that is not advertised on the ClickFunnels site. It is a package offering inside of ClickFunnels called the Share Funnel package. The price for this plan is $19 per month.
This is designed for people interested in trying out the program who, for one reason or another, don't have the funds to pay the $97 (or $297) for a regular ClickFunnels account.
However, due to the reduced price for this plan, it does come with a few limitations. For one thing, you can only add 3 funnels and a total of 10 pages to your account.
Secondly, you can't fully implement the share funnels feature for distributing funnels to other people at this time. But it is a good way to get a feel for how the system works and become familiar with the software.
So, the only way to gain access to this package plan is through another affiliates share funnel and signing up for the 14-day trial through their link.
During the sign up process, you may like to check out all the details and the features of the Limited Shared Funnels Only. Click through and you'll be on the Shared Funnels page to choose the package.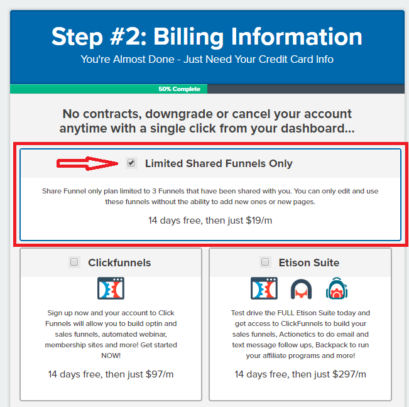 It is an excellent way to try and discover the benefits of ClickFunnels without the large commitment.
I Share Awesome Sales Funnel with You
Above all, I will share with you this awesome eCommerce sales funnel. It is insane! You can make some serious cash with this one. Just click on share link and sales funnel will be added into your account.
If you run a store then get the funnel and start generating more sales.
Final Words
To sum up, now you know what is Share Funnels and how to use ClickFunnels share funnel only plan. Beginner or not, you'll surely love to use this functionality! There are a lot of opportunity for you to jump in to this space.
To start using share funnel only plan just click Get Sales Funnel and start your 14 day free trial.
However, if you want to get unlimited access to all the best feature of ClickFunnels use this link to try ClickFunnels 14 day for free.
Above all, if you want to learn more about ClickFunnels. Then read out What Is ClickFunnels.
And of course, learn more about how you can use ClickFunnels to make money and how it level up your business!
Want to create your own blog and make money online? Read How To Create a Blog in 20 Minutes.
Thanks for reading through this entire post. Let me know what are you thinking in the comments.
Okay, here are the questions for you: Do you use Share Funnels functionality? Do you find it useful at all?
If you find this post useful, please share it! It costs you nothing, and it feels great for us! Thank you!