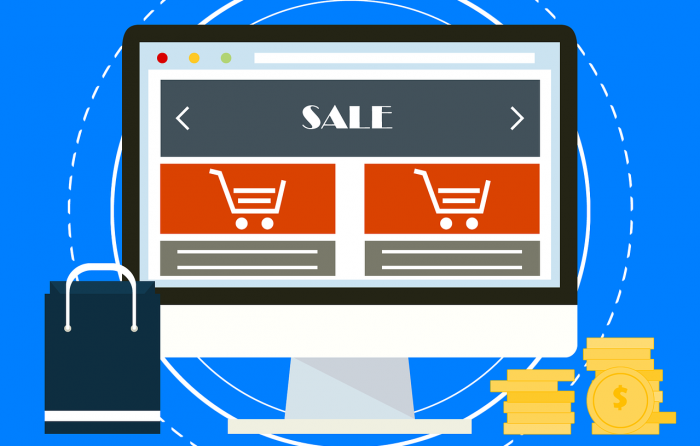 Good morning and welcome to your shopping cart. No we're not talking about the kind of shopping cart parked outside Walmart, but rather the electronic ClickFunnels shopping cart version (although they're not that different after all, right?).
To begin with, the shopping cart / order form page is essential for your online sales. That is to say, ClickFunnels is here to help optimize the sales page and gain you as many customers as possible!
But, if you don't know what is ClickFunnels read this post, you will see the value it provides!
So, your shopping cart/order page serves two purposes:
Convincing your customers that their decision is smart
Collecting payment details
Both purposes are essential. Up to 80% of people abandon their shopping cart before purchasing. Treat this portion of your business with extreme care.
This is the place to build rapport and trust, and to reassure your customer of the intelligent decision they have made to do business with you. How do you do this? Consider including the following elements:
Support email
Guarantee seal
Security seals
Benefit-driven bullet points
Why Should You Have a ClickFunnels Shopping Cart?
More conversions
Easy checkout – no waiting in line
Easy to use
It's time-saving. Why bother with a physical store when you can shop online
Easy price comparisons. Your customers can easily compare your prices with others online
Your customers save money! No spending on gas!
It's convenient and safe. Customers are not forced to step outdoors and their details are more safely stored online
Statistics: the order page can store the stats from your customers in one safe, easily accessible place
How to Set Up a ClickFunnels Shopping Cart
There you go! This is how you set up a shopping cart on ClickFunnels. Go forth and enjoy your new success!
Step #1: Create the shopping cart
Go into the ClickFunnels page editor, and click the button "+ ADD NEW STEP"
Set name, path and click the button "Create Funnel Step"
Next, go to "SALES" tab and choose "Order Form"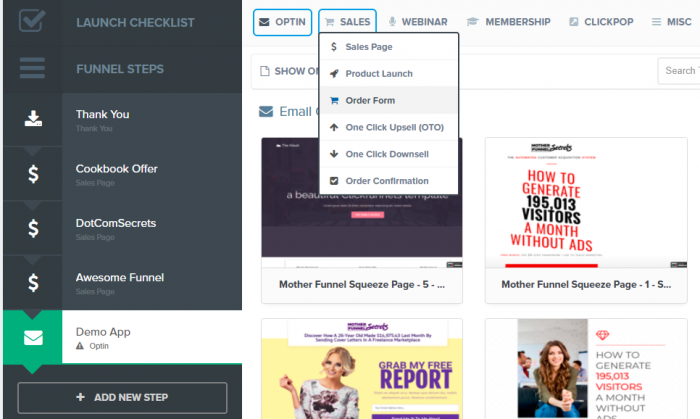 Step #2: Edit it to suit your needs
Above all, don't forget to include everything you might need:
The full name of the customer
The customer's email address
The shipping city, state, ZIP code, and country
Step #3: Integrate your favorite payment gateway. I prefer PayPal
Go into the ClickFunnels page editor "Products" tab, click on "Add Product" button and then press "Add Payment Integration"
Next, add the products

Step #4: Test your order page
So, now you ready to test your order page. Do some purchases!
After that, check purchases!

What do Customers Have To Say About ClickFunnels?
"If you're looking for an all-in-one solution, don't have a website, or want to create and automate a lot of different sales funnels, then ClickFunnels is your best bet. With ClickFunnels, you can get started with a 14-day free trial. After that, their monthly fee is either $97 for the Standard subscription, $297 per month for the Etison Suite (full suite) of features, making it a bit more of a stretch for online entrepreneurs getting started." – Christine Parma.
Certainly, in some cases you may get ClickFunnels for $19/mo. If you don't know how, read "What Is Share Funnels" post!
Final Words
In conclusion, I hope this post was helpful and now you know how to set up shopping cart / order form page on ClickFunnels.
In addition, here are some good learning resources you may be interested. Firstly, learn how to become a super affiliate! Secondly, read how to start blogging and generate traffic! Of course you have to read this awesome post, learn how making money with ClickFunnels.
Moreover, I have revealed a FREE exclusive 4 day training session showing you exactly how you can start your own online business. Take action, start it now!
If you wanna try ClickFunnels, I have a full bonus pack for you. Learn more right now!
Thanks for reading through this entire post. Let me know what you think in the comments.
If you find this post useful, please share it! It costs you nothing, and it feels great for us! Thank you!