The core benefit tips on building an email list are to help email and digital marketers to reach potential and existing customers in a rather innovative way. It is one of the top promotion tools with an equally fast adoption rate if executed correctly.
Therefore building an effective email list is a challenge, one you will learn to tackle in this article. So, in this post we will take a look at some email list building tips. Let's get it started!
Best Email List Building Tips to Learn Today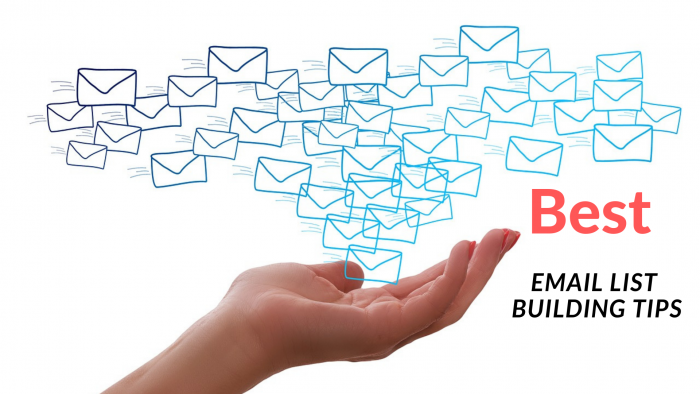 #1 Tips for building an email list by getting the attention of your visitor's
Use website trackers
The internet is a fickle place and people can easily get lost in the sea of information. To retain user attention, you need to be proactive nudge potential clients whenever you can.
These trackers trace user activity on your website and take actions accordingly. Once the parameters are met, a subscription will automatically be sent to the visitor, thereby you to proactively generate leads and turn visitors into subscribers.
Make it easy to access to subscription forms
Tucking away subscription forms in a dark corner won't help you gain any subscribers. Visitors who genuinely find your services useful should have subscription forms up and wait, should they intend to sign up.
Any time spent searching for a subscription form could proportionally demotivate the visitor from signing up.
Here are a few tips to help you with form layout and visibility on your website. Experiment with them to find out the best layout that suits your visitors.
The Side Bar subscription is a commonly used design thanks to its effectiveness, but it can also appear too imposing.

You can also create a form at the top of your website, but it does not very click friendly as the others.

Finally, there is the footer, where you add the form at the bottom of your page. It's simple, precise, and is well-liked by netizens around the globe.

However, you need good visual and written content to keep the users engaged until they reach the bottom of the page.
Try not to appear too insecure and cram subscription forms all over your website.
#2 Welcome your visitors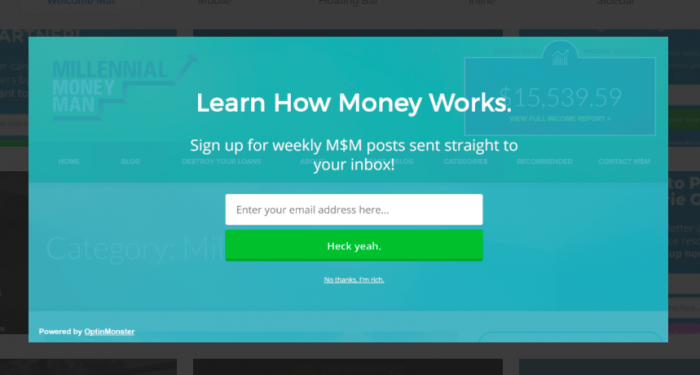 Welcome mats are like mini landing pages. They are similar to pop-ups and greet the user when they visit your page. Some people find this a bit obtrusive. But, there is no denying the fact that landing pages have managed to hike conversion rates by 70%.
However, you should never let numbers dictate your business model, not in all aspects. Conduct surveys, compare sites with similar services like yours and check the effectiveness of a welcome mat on those sites.
A huge subscription pop-up may or may not be the perfect tool for your site.
When it comes to a mini landing page, its greatest advantages can also be considered as disadvantages and vice versa. For instance, you can't miss or ignore the page when you visit the site as it is stamped right at your face.
While some find this welcoming, a group of netizens finds this to be disturbing as well. Some have even reported bad or stuttered navigation experience.
However, numbers don't lie though its many drawbacks, these pages can effectively boost conversion to a great degree. So, tread with caution and as a general tip, make the welcome mat as light as possible.
A longer loading time renders the page unresponsive in old computers. Pick a simple design and optimize it as perfectly as you can.
#3 Using a landing page for email list building is another good tip from our tips
If you're not high on the idea of a giant pop-up on your home screen, you can invest the effort into creating a remarkable and actual landing page. A well-made made and optimized home page will earn you numerous subscriptions.
What you need to keep in mind:
Clear design
Be clean in your approach. Refrain from cluttering up your home page. Implement a compelling and reassuring message stating your services and follow up with a single call to action.
Which finally leads the user to the subscription form, giving you the impression that you're not forcing the visitor into a subscription. They are doing this because they are genuinely curious about your newsletters.
The subscription
Once the visitor proceeds to subscriptions, present the necessary information in the simplest possible way.
If you're offering forms, use simple form designs. If you're offering paid services, distinguish between prices and explain certain keywords which the visitor might find hard to understand.
One neat way to execute is to implement a script that shows the definition of a certain word whenever the mouse hovers the word. It's simple, interactive and resolves any questions they might have when signing up.
A well-built landing page has a huge impact on the traffic you're getting on your site. Make it a priority to create the perfect and responsive page, minimizing any stutters the user could face when navigating through your website.
#4 Creating popups for email list building can be very useful tips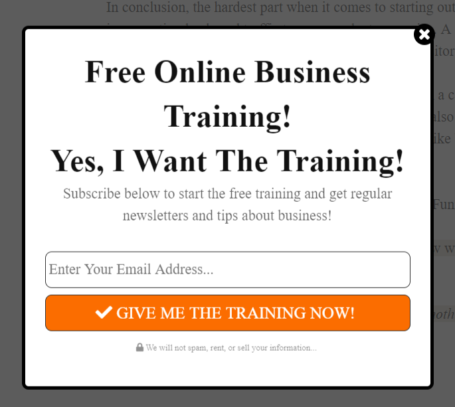 No matter how many popups, you create, if they will without the appropriate design. The ones you create should be eye-catching and appealing. They must entrance your visitors the moment they lay eyes on them.
Here are a few effective tips you can upgrade your popup to the next level in email list building.
Post specific popups
Once you've released a post and attached a separate popup exclusively for that post. This would encourage the visitor to sign up for only those mailing list that they find interesting.
Not only does this helps you streamline your audience, but it also assists in promoting your brand and establishing a sense of trust.
Tuning users' experience
Most sites make the mistake of sending unnecessary newsletters which creates a sense of discomfort among your users. They must be given the flexibility to choose the topics on which they will be receiving updates.
Add a separate call to action just beside the unsubscribe button. The call to action should redirect the user to a dedicated page, where they can choose their favorite topics.
You can even go a step further and add a time preference, empowering your users with the ability to receive the newsletters at their own time. Like on a daily, weekly, monthly basis.
Writing popups
While writing popups, you must be to the point. You only have a small window, use it.
Highlight your benefits
Briefly describe the content your offering
Giveaway a few tips, just to incentivize them to sign up
Be creative in your approach
Originality is a perquisite; don't copy from your competitors, instead, try improving their ideas
#5 Work on popup placement
Getting the attention of readers is a tough nut to crack. Netizens are very careful regarding email listings. If you want to get email ids, you must engage your audience and drop the ball at the right moment. Master the art of email best practices.
When a visitor is reading your article, keep track of how further they are going in before leaving.
Suppose, 35% of your visitors read 80% of the blog, 55% read about 50% and the rest 10% read the whole thing.
You can add 2-3 different popups to your blogs, one at 50%, the second one at 80% and one last popup in the end.
Those who reach the halfway mark are interested in your article, so offer them similar contents.
If the user reaches 80% you can offer the exclusive updates on discussion related to similar topics as well as pre-written ones. You get the idea.
Don't cram popups everywhere, place them strategically so that the user feels compelled to know more about the content.
#6 Bear in mind content upgrades
Times are changing. Email subscriptions have moved away from one-page PDF files to comprehensive eBooks, spreadsheets and another infographic that are engaging and informative at the same time.
If you want to build a mailing list, you must be prepared to walk the extra mile for your audience. Conduct surveys, find out the kind and format of content they prefer and develop them accordingly.
Here are a few tried and tested solution to get you started:
eBook
eBooks take a lot of time to create but once available they will surely convince your users the dedication you've put into the topic. Moreover, if they find the information useful, you might be receiving a slew of traffic as well.
However, they are a lot of work and requires a lot of research, if you intend to do it the right way. Begin at the basics. Write something that your audience will find helpful in their respective industry.
There are lots of tools available on the internet, ready to create an eBook in seconds. All you need to do is to create a read-worthy content.
Spreadsheets
Spreadsheets or infographics have been the go-to information hub for beginners and experts alike. They are simple, concise and can explain complex ideas in a matter of seconds.
They are also quite flexible as they can be created on little information. You can also cover a wide variety of topics in just a single page. Though it requires comprehensive knowledge, that's a prerequisite in this case.
VIP Treatment
If you take a look online, entrepreneurs all over the world are conducting online seminars. Audiovisual interaction is always preferred over any reading medium. You can build a substantial email list if you pull this off.
It's not just about videos and seminars. What matters is the presentation. In each of the above cases, users signing up were given a password to access a separate landing page containing the content.
This makes your audience feel special and provided you've given them some sweet tips and ideas, they will be instantly converted into loyal subscribers.
Content Upgrades
Email marketing lists are easy to create, but hard to sustain. To retain them, you must assure them of content upgrades in the future.
Follow up with your audience and find out their interests an upgrade your ideas and content according to their liking, or in a way, they might benefit from the information.
#7 My suggestions to use of the exit-intent popups for an email list building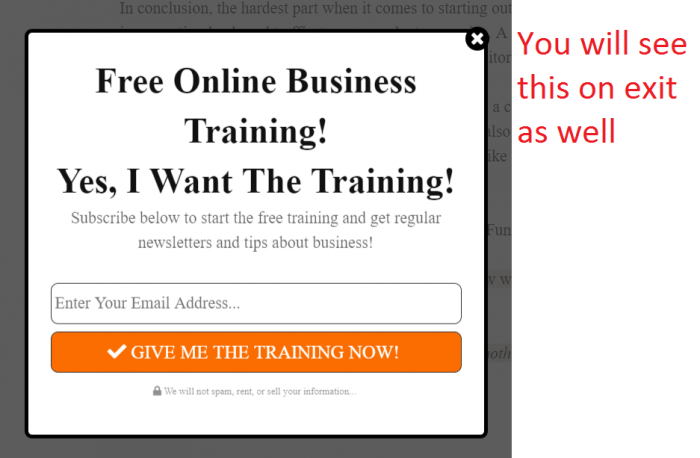 Is your website suffering from high bounce rates? Do you have huge traffic but the subscriber count isn't nearly that close?
Exit-intent popups might be the right option for your website. They introduce a whole new level interaction. These popups rely on automation and require some effort to set up correctly.
There are two parameters (in most cases), stage and engagement. Stage signifies the time the users have been a subscriber, such as a new or existing user.
Engagement determines the level of activity the user performs on your site. You will have to set up email automation based on these factors, creating a personalized experience for every one of your users.
For instance, if a user is a frequent buyer, you can offer them similar trending offers and discounts, once they have subscribed to your mailing list. The list of possibilities goes on, it is up to you to customize the user experience of your audience.
#8 Try conversational marketing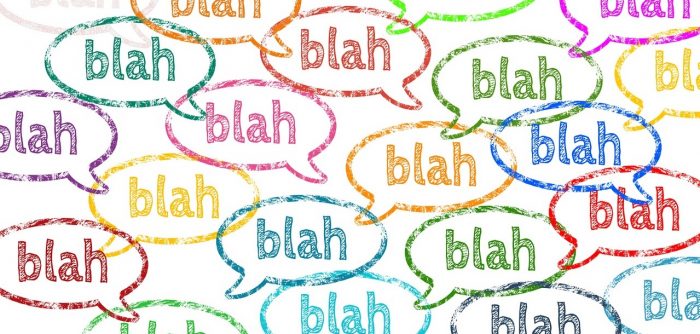 This is yet another engaging way to interact with your users and obtain their emails for your marketing list. You can go do this in two ways.
Firstly, you can answer any queries they might have. Once the dust has settled you can ask for their email id so that you inform them of future updates.
Secondly, if you are too busy handling other parts for the website, you can ask them, for their email so that you can later notify them about the problem.
This is more effective than any popups as it involves a certain degree of engagement and the visitors feel more welcome compared to other forms of interaction.
#9 Try surveys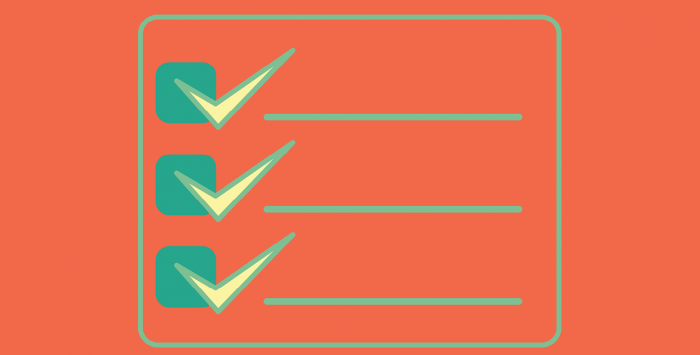 Conducting surveys is a great way to obtain an email address from existing and potential users.
When you're looking for a topic, conduct a survey and leaving the choice to your visitors regarding what they want to learn about next.
Besides the obvious questions related to the article, you can ask them for their emails, followed by a separate call to action.
Surveys are a great way to know your users and learn more about their preferences.
#10 Create interesting and engaging content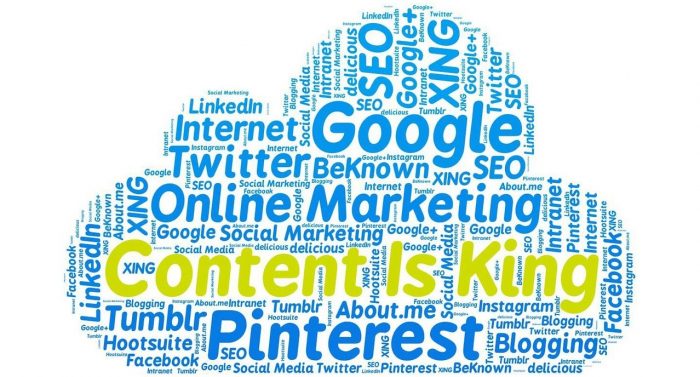 A well-placed pop up isn't always enough to attract users to sign up for your mailing list. To get their attention, you must offer valuable information, something which they will find useful in their line of work.
Start by developing engaging content. Try to include infographics and supplement the whole package with a worksheet/practice sheet if possible.
Best Email List Building Tips Besides of the Internet
Besides online marketing strategies, you can obtain emails off the internet. Lets' take a look at some offline email list building tips:
#1 Ask for business cards
Business cards are a great way to rack up emails. When you meet new people, ask for their business cards and give them yours in return.
If you have your own office, place a small glass bowl and ask visitors to drop their cards into the said bowl. You can also offer them a small incentive to do so, such as a gift card, or a free service.
While giving out your business cards, offer some exclusive services if they sign up to receive your newsletters. Create custom designs and experiment what kind of designs work best with your given audience.
#2 Put up a sign-up sheet
When you're at a community event or a trade show, collecting emails is like picking apples from an orchard.
Just put up a sign-up sheet and ask people to write down their details in exchange for a small discount coupon. Or access to exclusive events held sometime later during that day.
#3 Host your events
Hosting your events can bring in huge traffic and lots of opportunities to get your hands on the hundreds of emails. The event can be anything from a book club, to a periodic meeting on business topics.
Drop invitations, advertise on social media, invite people to interactive sessions from all-around your locality.
If they are convinced that they are receiving valuable information related to their field, they will be more than happy to share their email with your company.
#4 Try telemarketing
Although this is not a popular idea, telemarketing has its benefits. You have to talk to new customers throughout the day. Before cutting off, ask them if they would like to sign-up for your mailing list.
This particular strategy won't work unless you have someone adept handling the calls. If they fail to reassure the customers regarding the services you're offering, then they won't be as inclined to opt for your mailing services.
Telemarketing is only as effective as the people making the call and making the pitch.
#5 Create the perfect blog
A blog is the best way to build a personal relationship between you and your users. Make a format and stick to it. For starters, end your blog with the same call to action, which in this case is asking them to register for your newsletter.
Learn how to start a blog in 20 minutes.
However, if your blog isn't good enough, the readers will automatically feel discouraged to subscribe. First impressions are important. Content is king and makes sure you have some killer ideas and tips for the people reading your work.
Although, content is a king, but you need to know how to get traffic to your blog. If you don't know how to do it, read my how to generate traffic to your blog tips.
If you manage to create a debatable or engaging content, then people will feel compelled to speak on the topic and share their two cents on the matter.
Most comment sections in blogs require the email of the commentator, so in a way, writing a good blog will automatically earn you emails for your mailing list.
#6 Be active on social media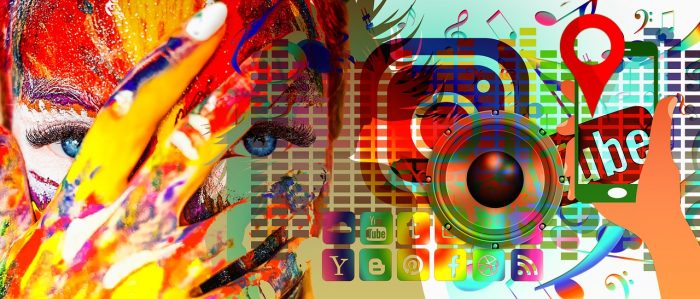 The social media platform is full of untapped potential. You're missing out on a big opportunity if aren't utilizing platforms like Facebook, Instagram, Pinterest, and others.
The best way to get attention on social platforms is to keep up with the trends. There is always something viral that's going on these websites. If you manage to detect those and produce interesting posts based on them, you'll have a bunch of dedicated followers in no time.
Once you've gotten their attention, ask them to visit your website and sign up for your newsletter. Go a step further and offer a complimentary PDF file/eBook of some of your best works by far.
Something that will surely impress someone looking for relevant and valuable information.
#7 Tips for cooperating with other businesses for making an email list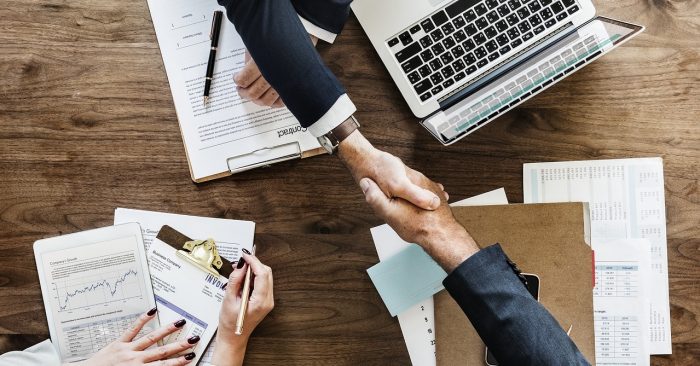 If you're having a hard time obtaining emails, then you might want to ask a neighboring business for assistance. In exchange, you can provide them a space in your newsletter.
Maybe describe a few words about them, or describe their company concerning their business and describe how successful they have so far. Once they have agreed, ask them to include a link with your subscription form in their newsletter.
It's like giving a shout out to a fellow business and is a great way to kick start your email marketing and list building strategies campaign.
#8 Use sandwich boards
Instead of just putting up a sandwich board offer something new, such as an eBook, discount codes, for those willing to sign up.
It's very efficient to attract local crowds and getting them to enroll into your mailing list.
#9 Create your own smartphone apps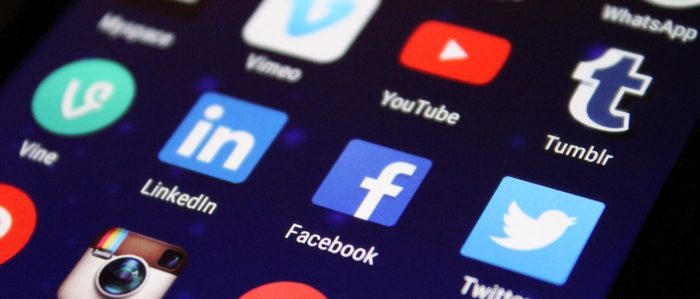 Every leading company has an app to represent them in the mobile front since it's one of the fastest-growing industries out there. It doesn't matter what your business is about, even if it's a blog, create a dedicated mobile app for it.
An interactive interface coupled with great content and the occasional popup asking the users to subscribe will surely get you emails for your list.
For better results, advertise the app on your website. Use the Q-bar code feature to allow users to instantly scan and download the app.
#10 Giveaway freebies
Though we have previously discussed eBooks and infographics they don't fall into the group of freebies.
Consider giving away a free premium subscription once a month to a lucky winner, or an in-depth analysis on one of the more complicated cases handled by your company in the last year.
Offering additional freebies such as these, in conjunction with your newsletter will not only boost your brand but will also gain you loads of goodwill which is essential when you're building your mailing list.
Final Words
In conclusion, that was a lot of email list building tips. Try these strategies and you will be able to build your effective email list.
But, whatever strategy you choose, you need to put in the effort to build a great list.
There's no silver bullet for an email list building, but you still can and should work to create your own successful and responsive list. Learn how to grow your own successful email list in 90 days for Free Today.
So, you have your responsive email list. But, what software you should use, so you can automate your newsletters or/and sent offers to your prospects? You will find the answers by reading these; Best Mailing Services, Email Service Providers.
Thanks for reading through this entire post. Let me know what you think in the comments.
Question for you: What strategies will you use to grow your email list?
If you find this post useful, please share it! It costs you nothing, and it feels great for us! Thank you!