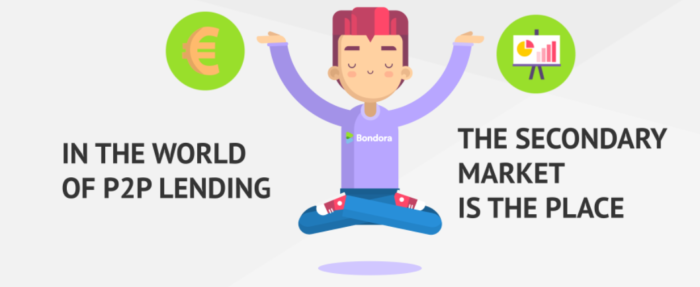 Is it safe?
First of all, it's a matter of luck and time in order to create a € 5000 portfolio in Bondora Secondary market in a year without any risk.
And the activity is not only about green portfolio but the red one as well. At the same time, no one can guarantee you risk-free portfolio. Be aware of risks! Make sure to read the entire post and take it as an entertaining one!
What is Bondora
If you already know what Bondora is then awesome! If you don't, it's a Peer to Peer Lending (you can invest only in Euros) in which YOU become a bank. Try it now for FREE! By the way, I have written a Bondora review. So, read it if you want to know more about Bondora.
Bondora Secondary Market: Some facts and strategy description
To start with you will need a new Bondora account. Please go ahead through this link and register. By joining this link, you will receive 5 € from Bondora, directly into your account. Here's the risk-free part – at the beginning you don't have to invest your money.
Secondly, when you have received 5 € in your account, you will have to go to Bondora secondary market (Sec. Market in a menu from the left). In the secondary market, you will need to look for loans which are on sale between -99% and -40% off. If you are lucky enough, maybe you will earn from € 100 to €50 for every 1 € spent. If not, you still have an opportunity to get a good deal. Perhaps you can get a € 500 to € 250 on top.
Note that from -99 to -40% of loans are very difficult to find in the secondary market. However, you can purchase loans through APIs quite fast. At the moment while typing this article, you can still get some loans for -40% discount if using UI (please find the video below). The important thing here is that not all red loans should be purchased.
What loans you should avoid
Loans that have been written off by Bondora must be avoided. There are exceptions, but almost always this type of loans will cost nothing. If you find a loan with the last payment made after the "Write off" status, then this may even work out.
For when borrowers fall behind with their monthly commitments, Bondora has collection & recovery 3-step process.
Ideally, you should pick up loans which are at least a little refunded, ideally even in red. This how, loans taken out by people who never intended to pay are excluded.
In addition to the red main part, you will almost always get a debt and interest on arrears along with the loan. Often, the court cancels the default interest and sometimes the interest. But there are also borrowers who politely pay off all the debt. It is enough for a few to do it – revenue is often decent.
You have to take into account that probably a big part of the red loans will not be refunded within 1-2 years (or even more) a cent. If you are lucky and you can be refunded within a few weeks. Recently, Bondora has been able to speed up and streamline its debt process.
Please, do take in to consideration the fact that, Bondora almost always charges 30% of the amount as a "service fee". And, in some cases, an unintelligible amount will simply be written off.
Certainly, after this post, the red loans will be harder to find. However, 5 € will be spent quickly, so some might still be available.
Bondora Secondary Market: Calculations
The chart below shows some calculation. It will require you to buy loans with -90% discount from the secondary market. And you do reinvest 2% of the principal monthly. In reality, 2% is boldly overpriced. But in case of luck (someone pays back the entire loan, gets some or all of the accrued interest and / or default interest), it can even be done.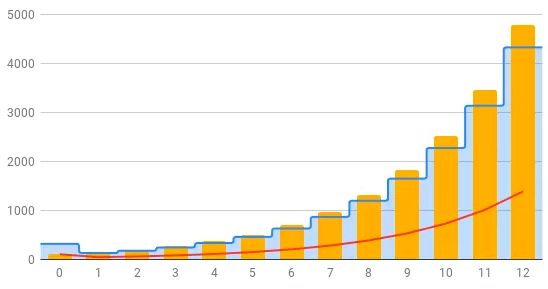 Ideally, at the end of the year, there could be at least a € 5,000 portfolio.
What are your thoughts about this, did you try it out or was it waste of time? If you interest in passive income ideas and making money online, go ahead read Passive Income Ideas post.
NB! It is not an investment recommendation. If you even intend to test this strategy, I don't recommend using your real money for this in the beginning. Better experimenting with Bondora's € 5, which you get when you create a new account thoughts this link.
If you find this post useful, please share it! It costs you nothing, and it feels great for us! Thank you!
Ask a question or bring your experience by commenting! Thank you for reading!