Become Bondora p2p lending investor. Is it safe?

Firstly, I was looking for the opportunity to build an alternative passive income for a long time. So, I found out about Bondora approximately a year ago. And I thought P2P lending can be the great opportunity for me, at least it is worth making some research. And I did. In this post I provide Bondora review, so you can decide if it's suitable for your purposes or not.
Actually, by that time I have already invested 25% in bonds and 75% in equity as well as in the funds "JPMorgan Funds – Global Focus Fund I (acc) – EUR" (67%) and "DB x-trackers IBOXX EUR 5-7Y FX" (33%). In addition, I have made my investments via Swedbank.
Bondora is a Peer to Peer Lending (you can invest only in Euros) in which YOU become the bank. Try it now for FREE!
Becoming a bank, sounds attractive. Can you believe? But that's true! In other words, now anyone can become a bank. Bondora P2P lending helps us with that.
"Peer-to-peer lending fills a void in the marketplace and is a natural extension of the sharing economy. It brings investors and business people together to create a mutually beneficial arrangement without extensive red tape, which amounts to a win-win for both parties." – Bondora
Very important, you can invest with a minimum of 1 EUR. Moreover, Bondora even gives you the 5 EUR as a bonus. In fact, they have different opportunities for the investors with different experiences. Important to know that Bondora is an old company which has been in this business since 2009 and has achieved good reputation in this field.
Another thing to keep in mind is that Bondora invests in every loan it issues, unless the single investor wants to buy 100% of the whole loan.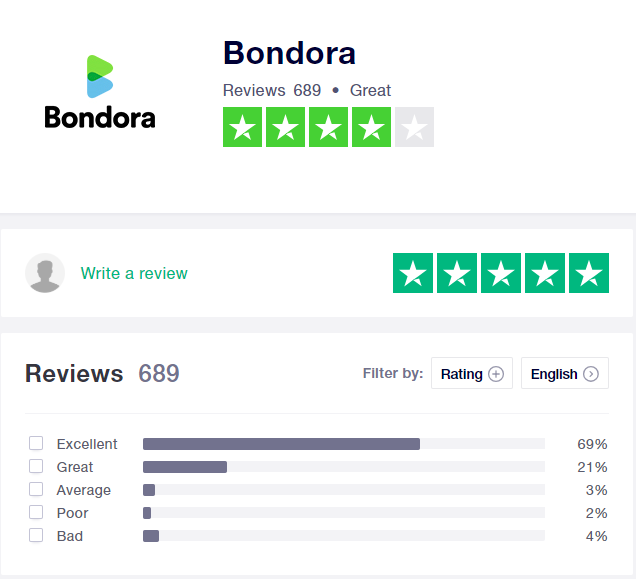 Bondora Review: Table of Content
Reading time: 5 min
How to invest at Bondora?
What opportunities does Bondora give?
Is it safe?
How to transfer money?
How does it perform?
Who is it for?
My interest so far.
Bondora's pros & cons.
Bondora Review: How to invest at Bondora?
First of all the investor has to create an account. The process won't take much time, just a couple of minutes. Simply write your name, email and your phone number. This service gives your an opportunity to sign up with your existing Facebook or Google account. When the investor gets into Bondora portal, he or she has to create his or her first portfolio (in my case it was Portfolio Manager) and deposit money. By doing this the investor starts making his first investments. The video below will educate you how to activate your Portfolio Manager properly.
Bondora Review: What opportunities does Bondora give?
By the time I was writing this post, there were four ways of investment provided:
Portfolio Manager
Go & Grow
Portfolio Pro and
API
In addition to the list above you may try Bondora secondary market from there you can buy and sell loans.
So, when choosing Bondora, you invest your funds in the following European counties: Estonia, Finland and Spain. By the way, Bondora issues most of its loans in Estonia, and Finnish loans continue to be the most issued after Estonia.
Portfolio Manager
In my opinion, at the beginning it is wise to use Portfolio Manager. This instrument is completely automated and the investor can choose strategy which is suitable for him/her. In order to set up or edit Portfolio Manager the investor needs to navigate to dashboard, scroll down and choose the preferred strategy and settings, click Activate Portfolio Manager button and agree to its terms and conditions (Portfolio Manager Agreement).
Portfolio Pro
Due to the investment process which is completely automated, you will have time to investigate the market. After the investor has become more confident as a next step he can take Portfolio Pro. It allows investor to create different strategies and run these as separate portfolios according to his/her own rules. There are a number of different rules investors can set up within each portfolio. Portfolio Pro will be covered in another post.
Go & Grow
Next tool is Go & Grow, which is also automated. This tool is for those who want to take low risks, as well as get a predictable net return. Go & Grow is a very simple service that allows you to earn 6.75%* p.a. on your investment and take your cash out at any time. Go & Grow will be covered in another post.
API
If the investor wants more control, he/she can use an API. Investors benefit from the API by having access to data and services that cater to their individual wishes and by getting the ability to bid on specific loans that fit their personal investment strategy. Only 1% of all customers use API.
At the moment (while writing this post) I'm using Portfolio Manager. On the Portfolio Manager page you will find a very useful instrument, which shows the net return of the investments.
Warning
Bondora recommends that you have only one product active per time, so you don't have any conflicting strategies.
Is it safe?
In my opinion Bondora is quite safe. Otherwise, I wouldn't invest at it. In fact, the money borrowers and lenders transfer to Bondora is held on a segregated client account. Moreover, no interest shall be paid for money held on the client account. Bondora banks with SEB Bank, one of the largest banking groups in Scandinavia. You can find additional information about their credit ratings on SEB Group's home page. Bondora is regulated by the Estonian Financial Supervision Authority (FSA) and was granted a Credit Provider license. The FSA is the main regulating body in Estonia which governs and oversees all banks, credit providers, credit intermediaries, insurance companies, insurance intermediaries, fund managers, investment and pension funds, investment firms, E-money institutions and payment service providers.
While every step is taken to ensure all borrowers will make their repayments, from time to time they may unfortunately fall behind with their monthly commitments. This can be for a number of reasons, like losing their job, for example.
Steps
For when borrowers fall behind with their monthly commitments, Bondora has collection & recovery 3-step process.
In house collection from 1 till 74 days overdue. In house collection means regular reminders and information passed to debt registries.
Default & Court, 75+ days overdue. Default & Court means that details passed to court. Case automatically filed via payment order or civil claim.
Bailiff, 200+ days overdue. The bailiff has the rights to freeze the debtor's assets and accounts to cover the payments owed.
How to transfer money? (Deposit, withdraw or liquidate an account)
Bondora has many ways how you can deposit your money. SEPA, TransferWise, Credit Card, Bank transfer thought Trustly. Trustly gives you an opportunity to make a faster and safer deposit to your Bondora account. It lets you deposit to Bondora directly from your bank account. It currently supports over 3,300 banks in 29 European countries and is licensed by the Swedish Financial Supervisory Authority.
The SEPA payments take a maximum of 3 business days to arrive and the costs are generally the same as for domestic payments for the Eurozone customers.
TransferWise is useful when making payments outside the Eurozone allowing you to save money and time. TransferWise may take up to 5 business days to receive.
AS FOR ME. I have made my deposit through Trustly, which is easy and fast. For the first time it takes ~ 12 hours to receive money, however the second time takes about half an hour.
Withdraw
Before you withdraw any money (and Bondora does not have any minimum for the withdraw) you have to identify your salve by sending copy of your ID or passport. After that you can withdraw any available funds.
Liquidate
For your portfolio liquidate purpose Bondora has second market, if you use Portfolio Manager or Portfolio Pro, you can just sale your loans. But be careful "Selling your loans can result in a loss of the original principal, as the secondary market typically does not provide a high enough premium for current loans to compensate for the non-performing part of the portfolio. To avoid this and to maximize your returns when liquidating your portfolio, why not pause your reinvestments and hold the loans until maturity, taking cash out as the loans are paid back to you on a monthly basis." You can always contact investor@bondora.com for advice.
However, with Go & Grow, Bondora takes care of everything – meaning there's no need to sell your loans one-by-one, all you need to do is click 'withdraw' and you can liquidate your whole account at any time. And the good news, you can transfer your existing Bondora investment portfolio to Go & Grow at any time.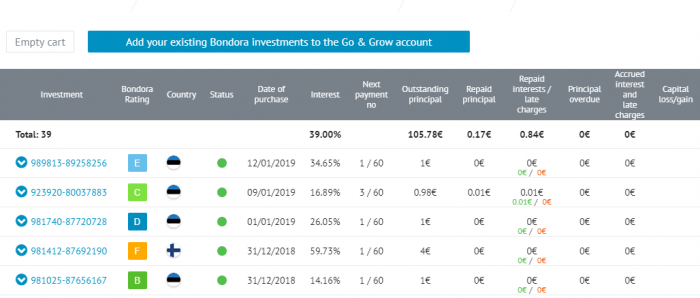 Bondora Review: How does it perform?
Now, it is time to examine returns for the Bondora Review portfolio of peer-to-peer loans.
Yearly returns
The highest return year occurred in 2010 with 25.7%, followed by 2012's return of 25%. The lowest return year occurred in 2015, where Bonodora loans return 7.8%.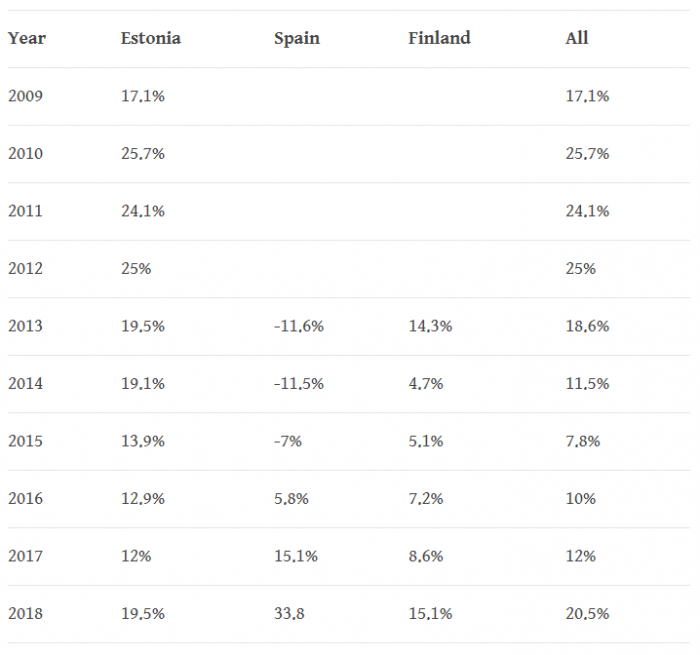 The year ended with a positive smack for Bondora loans. They are originating more loans across all countries than ever before, and most origination data points to a stronger portfolio of Bondora loans.
With €8,448,570 in total loan origination's in the month of December, Bondora not only ended 2018 year strong, but broke its record for most loans originated in a single month. This also represents a jump of €554,497 or 7%, from issuance's in November.
Bondora statistical analysis indicates that the net return should be around 10% on average from the investments, the analysis is based on past performance of similar claims and therefore it does not guarantee that similar performance will continue in the future.
Who is it for?
Anyone over the age of 18 living in the European Union, Switzerland or Norway and businesses registered in the EU or from any other country approved by Bondora. If you are an investor from Australia, Brazil, Canada, Hong Kong, India, Japan, South Korea, Mexico, Singapore, South Africa or The United States of America then Bondora needs to verify that you are an "accredited investor". As part of the verification process they ask you to send them different information and documents.
"Get Rich Slowly! Slow and steady wins the race." – Loans sold on the platform are long-term investment, meaning an investment horizon of more than 5 years. If you wish to cash out sooner, you may lose some or all of your original principal.
My interest so far
I made my first investment at Bondora on 28.12.2018. I invested 105 EUR. A regular deposit of €100 per month. So far (19.05.2019) my interest (profit) has been about 23 EUR (27.32%). Which, I consider as a promising start.
Bondora has their own loan rating system: AA (low risk) A B C D E F HR (high risk), I have invested in all of them. I reinvest all amount of interest regularly, so that I can earn interest on interest (compound interest), which I have already received.
In addition, the table below, provided by the Calculator Site, shows how powerful compound interest can be. So, showing an initial deposit of €10000, a regular deposit of €100 per month and an interest rate of 10% per annum, calculation period is 5 years. Above all, the annual interest in the end is €7,822.27.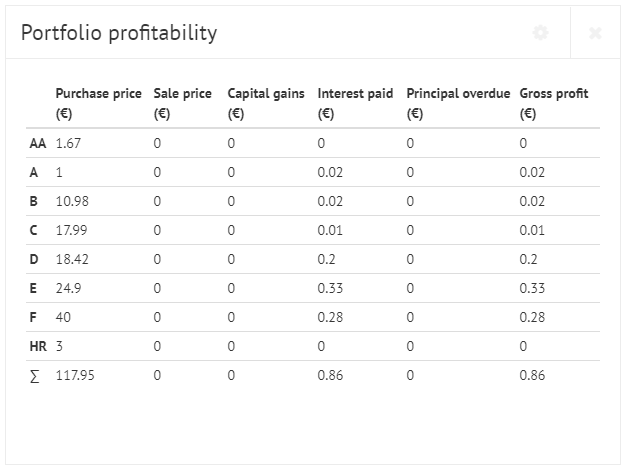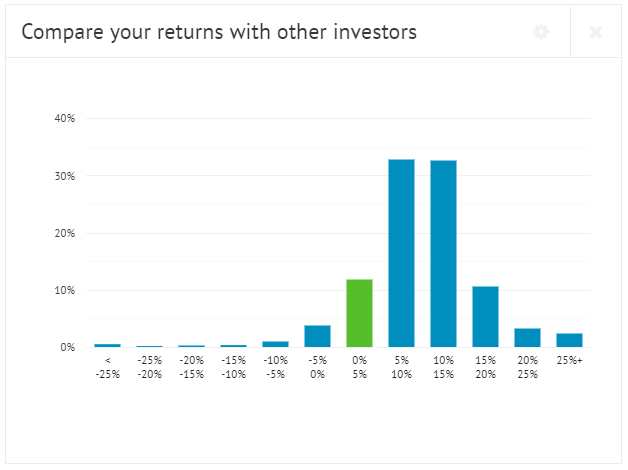 Bondora Review: Bondora's pros & cons.
In my oppinion…
Cons:
There's no buyback guarantee.
As with any investment, your capital is at risk and the investments are not guaranteed.
Pros:
Investing is very easy using Portfolio Manager and Go & Grow.
Excellent liquidity.
Many statistics are available.
Second marker is available.
Support.
The website is easy to use.
Possibility to get high interest.
Bondora Review: Key Takeaways
Bondora is an old company which has achieved good reputation
Invest on Bondora is simple
Bondora provides four ways of investment
I can close my account and sell the loans in any time
The investment horizon should be 5 or more years. Otherwise,
I may lose some or all of my original principal
*As with any investment, your capital is at risk and the investments are not guaranteed. The yield 6.75% is not guaranteed. Before deciding to invest, please review Bondora risk statement or consult with a financial advisor if necessary.
Please bear in mind that nothing on this website should be considered as personal advice. Therefore, you have to seek professional financial advice if you have any doubts of the suitability of your investments.
If you find this post useful, please share it! It costs you nothing, and it feels great for us! Thank you!
Make sure to read how to Create a € 5000 portfolio in Bondora. In addition to Bondora there are some good ways to earn money in passive way. To learn more, read my top 5 passive income ideas post.
Ask a question or bring your experience by commenting! Thank you for reading!